When you think about it, greyhounds are pretty amazing…
Greyhounds are the fastest breed of dog & one of the fastest animals on earth, reaching speeds of up to 45 mph within just a few steps.
Greyhounds have been bred for function rather than appearance so come in many different colours: black, brindle, red, blue, tan, fawn & almost every possible combination of the above!
Greyhound coat colours
I think Max's coat is Dark Brindle & Molly's is Black & White. I'm a real sucker for the Brindles myself, but they are all beautiful (though not sure I've ever seen a Dark Red in real life)!
Don't be fooled by their athletic appearance! Greyhounds are notorious couch potatoes & actually require less exercise than many other dogs. They are sprinters rather than endurance runners, & don't like to waste energy.
Greyhounds' ears have often been tattooed: on the right if bred in England & on both if bred in Ireland. The combination of letters & numbers in the tattoo(s) can be used to trace a dog's birth date, litter mates & racing history .
I used Greyhound-Data to trace Max & Mollys' histories. Max, or should I say 'Bannside Maginty' as he was then known, ran 171 races during his 4 year 'career' & won a fair few! I even found a video clip of him racing (he's in trap 4). Molly ('Monicas Girl') was only raced for 1 year, but through the website I have been able to trace of one of her litter-mates ('Clean the Boots') who was rehomed by Shawfield RGT just last year. The staff at Shawfield have very kindly agreed to put me in touch with Oscar's owners, so that hopefully we can arrange for Molly & her brother to be reunited!
When running in full stride, greyhounds run with a double suspension gallop (i.e. like a cheetah, not a horse), spending most of the time with all four feet off the ground at once!
Max in full stride
Greyhounds have stereoscopic vision, meaning they are best suited to seeing moving rather than stationary objects. They can see things which are far away (up to half a mile!) better than up close.
Greyhounds can produce gas that stinks like no other! Prone to sensitive tummies, these dogs are capable of waking you from sleep with their foul-smelling farts!
Greyhounds appear in Greek & Roman mythology, are an exception to the widely held Islamic belief that dogs are 'unclean', & are the only canine to be mentioned by name in the Bible.
Warning! Greyhounds are highly addictive & adopting one can often lead to adopting another! Hence the saying, "If you can see the floor, there's room for one more…"
a floor-full of hounds: Ben, Charlotte, Danny, Molly & Max
I compiled this list of fun greyhound facts for the photo-book which Gracehounds have just launched, 'Gracehounds: Four years of greyhound rehoming'. The full colour 100-page book tells the story of the charity's first four years, with written contributions from volunteers & adopters, as well as lots & lots of greyhound pics, many taken by the talented (& very patient) Martin.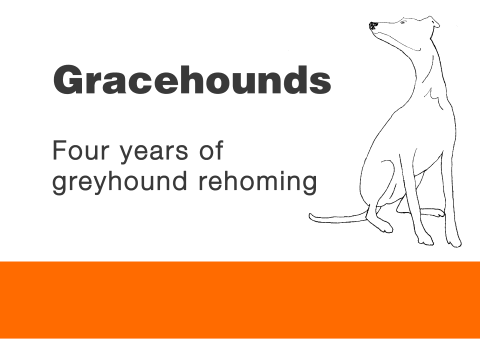 My drawing is featured on the book's cover
The books are now available to purchase priced £12.50 each, with 100% of the proceeds going to Gracehounds to help with further greyhound rehoming. To order your copy, download & fill out an order form or email gracehounds@googlemail.com.